Galadriel
My first charcoal drawing: A portrait of Galadriel from Lord of the Rings.
This is my first project done in charcoal.  It took 20+ hours to complete.  Here are the materials I used:
- Staedtler Mars Technico 789 Leadholder with HB graphite (layout lines and eyeball shading)
- Derwent Sketching HB (proportion layout)
- Derwent Charcoal Light, Medium, Dark (everything else)
- Artist's Loft assorted blending stumps
- Canson Mixed Media peper 14" x 17"
- Kneaded Eraser
- Mechanical Pencil Eraser
- Watermen Art Mahl Bridge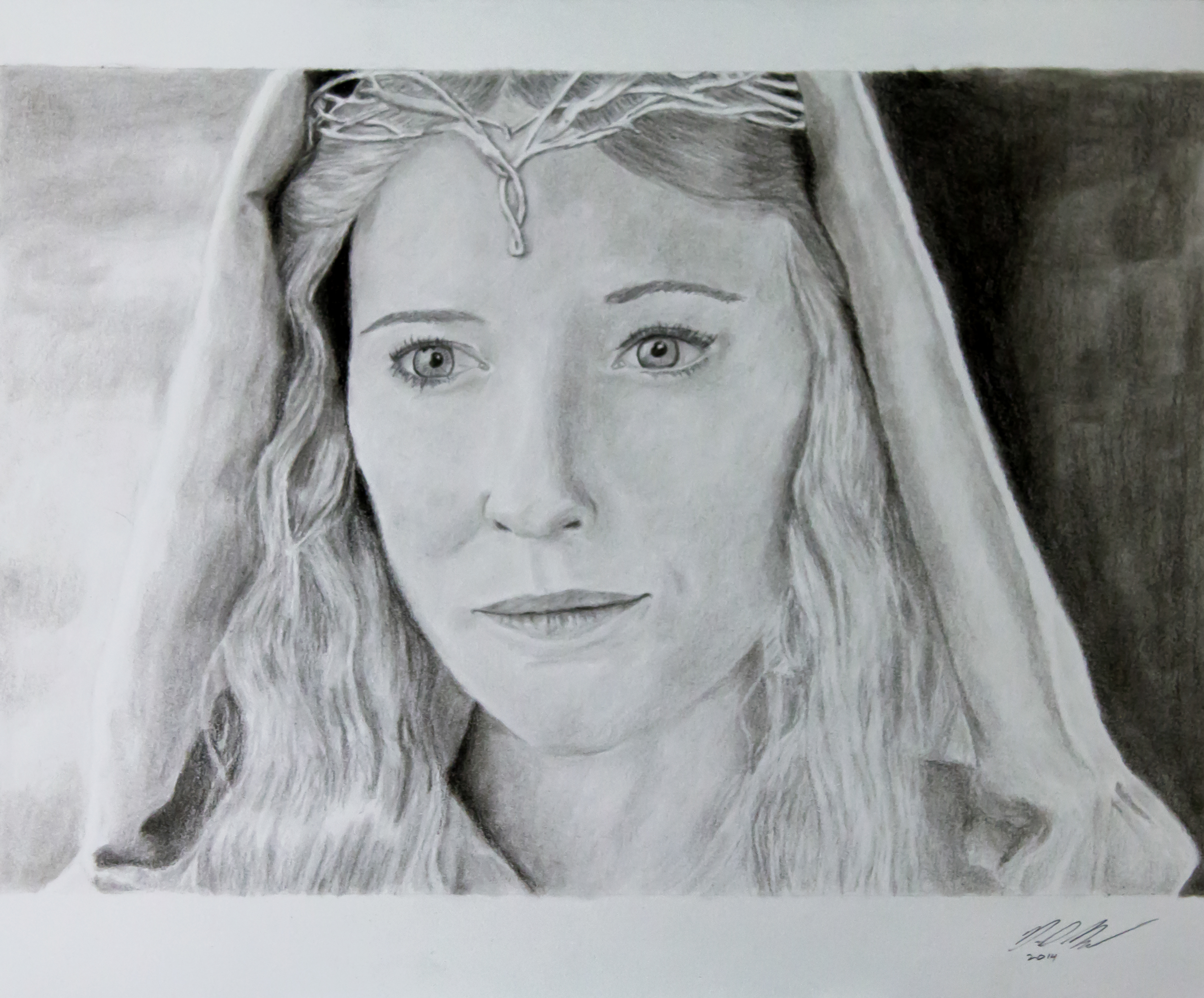 Being my first drawing with charcoal there was a huge learning curve versus graphite.  I was so worried about working with charcoal I didn't notice that my new pad of Canson Mixed Media paper had quite a heavy texture compared to my last one.  This made details and blending of some of the larger, dark areas quite difficult.  The refinement and tone adjustment stage of this drawing was also the first time I got to use my Mahl Bridge, and I can say that I don't know how I ever lived without it.
Overall I think this came out to be a great first effort.  If I was going to do it over again I think I would choose a smoother paper, and perhaps get one of the Onxy graphite pencils to add some of the finer details.  I'm not a fan of the reflectiveness of graphite, but in small quantities you can get away with it.  Charcoal seemed a bit hard to keep a really fine tip on, so I didn't even attempt to do some of the more subtile details of the skin or hair.
I also need to find a better way of photographing my finished work.  To get the overall tones of the photo that represent the actual drawing, I lost a bit of the highlights.  You can see that the upper and lower borders are grey instead of the true paper white like they should be.